President's Message
Company Profile
Organization
Various Certification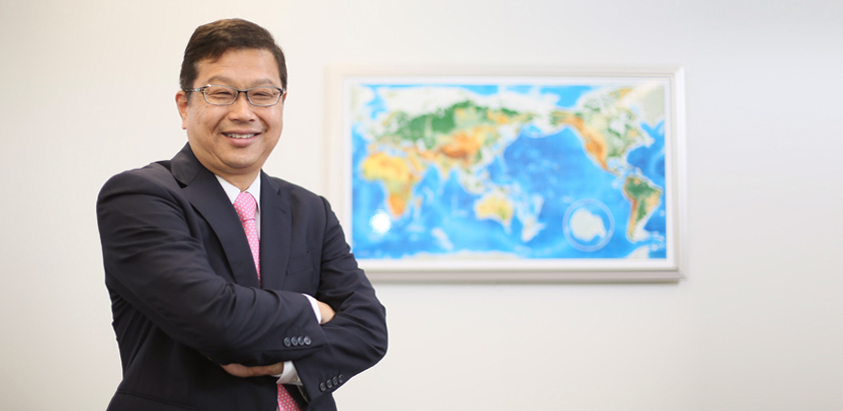 Thank you for visiting the website of Kanematsu Trading Corporation.
Our company was established in 1970 as a member of Kanematsu Corporation, a general trading company in Japan. Since then, for over half a century, we have focused on supplying iron and steel products. Through our journey, not to mention our domestic services, we have expanded our scope of business to international trading as well. We are currently engaged in diverse type of trade business with a range of steel prodcuts to meet the needs of customer and society.
With the steadfast support of our stakeholders, we are grateful to announce that this year, 2020, Kanematsu Trading Corp. will mark its 50th anniversary.
Our principles in managing the company, high-level tranceparancy and high evaluation by society, have now been firmly established. We will strive to continue further business pursuits for the next 100 years and beyond.
We appreciate your ongoing and invaluable patronage and support.
Very truly yours,
Tomofusa Emi
President
Kanematsu Trading Corporation
Name of Company
Kanematsu Trading Corporation
Tokyo Head Office
akebono Nihonbashi Bldg. 6F, 19-5,
Nihonbashi Koami-cho, Chuo-ku,
Tokyo 103-0016, Japan
Phone: 81-3-5860-2200
Established
December 1970
Capital
260 million yen
Shareholder
Kanematsu Corporation(100%)
Directors

President

Tomofusa Emi

Director

Toshihiro Ikegami

Director

Taku Nakagawa

Director

Toshihiko Funamoto

Director

Junichi Yamanaka

Director

Koji Araki

Director (part-time)

Osamu Iwata

Auditor (part-time)

Shigenobu Makita

Number of Employees
280 (consolidated)
76 (nonconsolidated)
Accounting Period
Ending March 31
Business
Domestic and overseas sale of steel, construction materials, building materials, iron making raw materials, steelmaking raw materials, stainless steel, specialty steel, Contractor for Steel Construction and Interior/Exterior Construction Projects, etc.
ISO
ISO9001:2015 quality management system
Tokyo Head Office Sales Departments and Osaka Office Sales Departments
Main Banks

Mizuho Bank, Ltd.
MUFG Bank, Ltd.
The Norinchukin Bank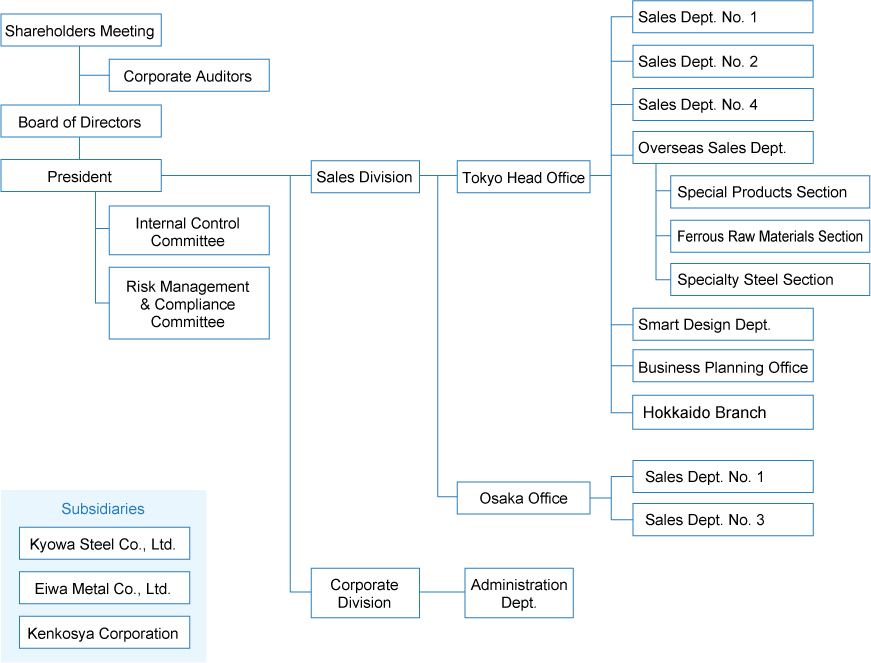 Various Certification
We maintain and operate a quality management system based on ISO9001
international standards to continually enhance the quality of our services
and the satisfaction of our customers.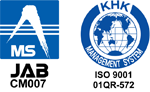 ■ Quality Policy
We strive to fully understand customer needs, enhance customer satisfaction and continually improve our system in full compliance with applicable regulations.
Kanematsu Trading Corporation employees always strive to improve their skills while contributing to society as proud members of the company.
■ Construction Permit
Governor of Tokyo (TOKU-31) No. 150162
■ ISO9001:2015 Certification Details
| | |
| --- | --- |
| Certifying Entity | The High Pressure Gas Safety Institute of Japan |
| Certification Number | 01QR-572 |
| Date | June 13, 2001 |
| Expiration Date | June 12, 2022 |
| Location | Tokyo Head Office Sales Division, Osaka Office Sales Division |
| Scope of Products/Services | Sales of steelmaking raw materials, metal, metal finished products, and building materials |